---
Posted on: December 29th, 2017
---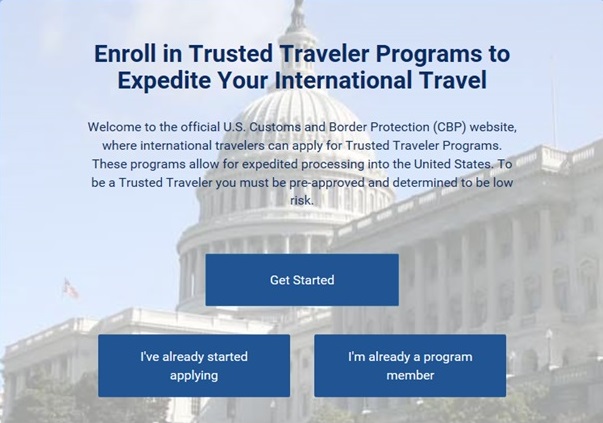 ---
Since 1st of October 2017 CBP launched officially their new system for Trusted Traveler applications that include programs such as Global Entry, Nexus, Sentri and etc. The new TTP platform is presented as more secure and user friendly. That change was announced on September on the official website of U.S. Customs and Border Protection https://help.cbp.gov/app/answers/detail/a_id/1207/~/%2A%2A-breaking-news-from-the-cbp-information-center-%2A%2A.
The new system may bring to the user better experience and security in the long run but that change may confuse other as people has already complained.
Here is the brief guide how to proceed with your application if you have already started the process on the old GOES system.
All the information applied before the mentioned date was transferred to the new place on the internet dedicated to the purpose. The Trusted Traveler Program currently is set on a cloud-based website - https://ttp.cbp.dhs.gov. This web venue is owned by the U.S. government as it was before and everyone who has never applied or even heard of the system needs to know that cannot expect privacy.
But we will explain to the newbies what to do later in this article.
Before that, the old members or applicants have to know that their information isn't hard to be found and matched to the stats entered on the GOES page. Trying to reach your account through the old website will only redirect you to the new one. And there three choices appear on the screen – one for the members of the program, another one for those that consider enrolling and one for the people who have started the application procedure but haven't finished it. But regardless of what your status is being on the Trusted Traveler Program website for the first time requires creating an account on login.gov service.
Everyone has to submit some personal data – the members and the applicants have already obtained PASSID and besides that it is a must to fill in your first, middle and last name, your place of birth and date of birth. Don't get annoyed if you have gone through this stage previously – if your data matches what have been submitted to the GOES website, you will be directed to the dashboard of your profile and will be convinced that the information migrated successfully from the old "house" to the one that has been freshly built.
Don't panic if the data does not match – might be an error that can be fixed. You need to turn for support to the Help Desk of CBP at https://help.cbp.gov/app/ask. And we recommend you to select Trusted Traveler Programs option when asked about a primary topic you look for and the explanation of the issue has to be placed or found in the subtopic. Dialing 855-873-4637 may also be helpful – there will be someone on the line Monday to Friday (except for federal holidays) from 8:30 AM to 4:00 PM.
Easier for US citizens who travel frequently
For all who have used the old system, the recently created Trusted Traveler Program website will look and feel like it's easier to process and gives a higher level of user experience. For those considering clicking on the "Get Started" button, we have to tell that it is a service provided to U.S. citizens who travel frequently through the borders and hate to wait for hours. The system suits also to those who live in a different country but still have their American ID or passport. 42 airports in America possess those kiosks providing expedited clearance upon the arrival in the country from abroad. Can you apply if you are not American? Yes, but only citizens of the following countries are eligible to enroll – Argentina, India, Colombia, United Kingdom, Germany, Panama, Singapore, South Korea, Switzerland, and Taiwan. The Trusted Traveler Program have a separate platform for Canadians (NEXUS) and Mexicans (SENTRI), the Netherlands were also on the list but currently are out for a while due to system change.
It's not a visa but it eases the traveling process. But before being granted a 5-years membership in the Trusted Traveler Program, you have to be checked and confirmed to be a person of low-risk, interviewed several weeks or months after applying and paying 100 US dollar – a non-refundable fee (though reimbursement is available for certain types of credit cards). The share of people who are rejected in the process is less than five percent and for those who have been granted members it's even more unusual to have their status revoked.
---